Body - Frequently asked questions about the Weather screen
What is the Weather Forecast screen?
The Weather screen provides you with information about the average weather and temperature for the morning (between 6:00 AM and 12:00 PM) and for the afternoon (between 12:00 PM and 9:00 PM).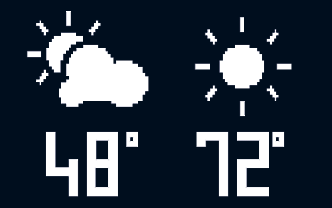 If you weigh yourself in the morning, the weather and temperature of the current day are displayed. If you weigh after 7:00 PM, the weather, and temperature of the next day will be displayed.
 
What do the pictograms mean?
| | |
| --- | --- |
|     | Clear day |
|     | Partially clear day |
| | Cloudy day |
| | Rain |
| | Thunder |
| | Snow |
How does the Weather Forecast screen work?
Based on your location, the scale connects to a partner service that specializes in weather forecasts. This data is then transferred and displayed on the screen of your scale. If this location is wrong, scroll down this page or click here.
Note that this screen is only displayed if you set up your scale using Wi-Fi, as it needs to connect to the Internet to access the weather forecast service.
My scale shows the weather forecast of the wrong city. How can I change this?
If the location of your scale is wrong, you can change it by performing the following steps:
Go to My devices in the Health Mate app.
Tap Body.
Tap Location of your scale.
Select the correct location.
Tap OK.
I don't want to see the Weather Forecast screen. How can I hide it?
You can select which screen you want to display or hide by performing the following steps:
Go to My devices in the Health Mate app.
Select your scale.
Tap Screens customization.
Select your user profile.
Tap the screen names to select or deselect them.
Tap and drag the screen names to change the order.
Didn't find what you need? Here's how to get in touch.
Contact us