What is the Missions screen?
With the release of Withings App 5.14, your Body Scan will now be able to show the number of Withings+ Missions on your scale's screen.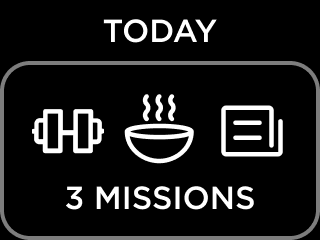 When you weigh in, your assigned Missions for the day will appear on your scale screen.  
List of available Mission categories that can be displayed on your Body Scan: 
| | |
| --- | --- |
| | Workout |
| | Recipe |
| | Survey |
| | Product Discovery |
| | Measurement |
| | Article |
Why is the Missions screen not available in the app?
The Missions screen is only available to Withings+ users. 
Why can't I activate the Missions screen in my app?
This screen can be activated only if the scale is configured in Wifi.
Why doesn't the Missions screen appear after my measurement?
The screen is displayed only if you have missions available in the Withings app. If there are none for the day, the screen is skipped.
Note: As your Missions are retrieved by the scale overnight via Wifi, you may not see your Missions on the scale if your Wifi is disabled during these periods.