Overview
The Health Improvement score is a way for you to track your overall wellness journey as a Withings+ user. It is displayed as a single number on a scale of 1 to 100 and is intended to give you an easily understood snapshot of your current health metrics based on the measurements gathered by your Withings devices!
Your Health Improvement Score is exclusive to Withings+ users and can be explored at any time by going to the Measure Tab in the Withings App.
It is made up of several sub-scores, each of which target a different area of your fitness and health! By looking at these sub-scores you can better understanding what you can focus on to improve your overall health score.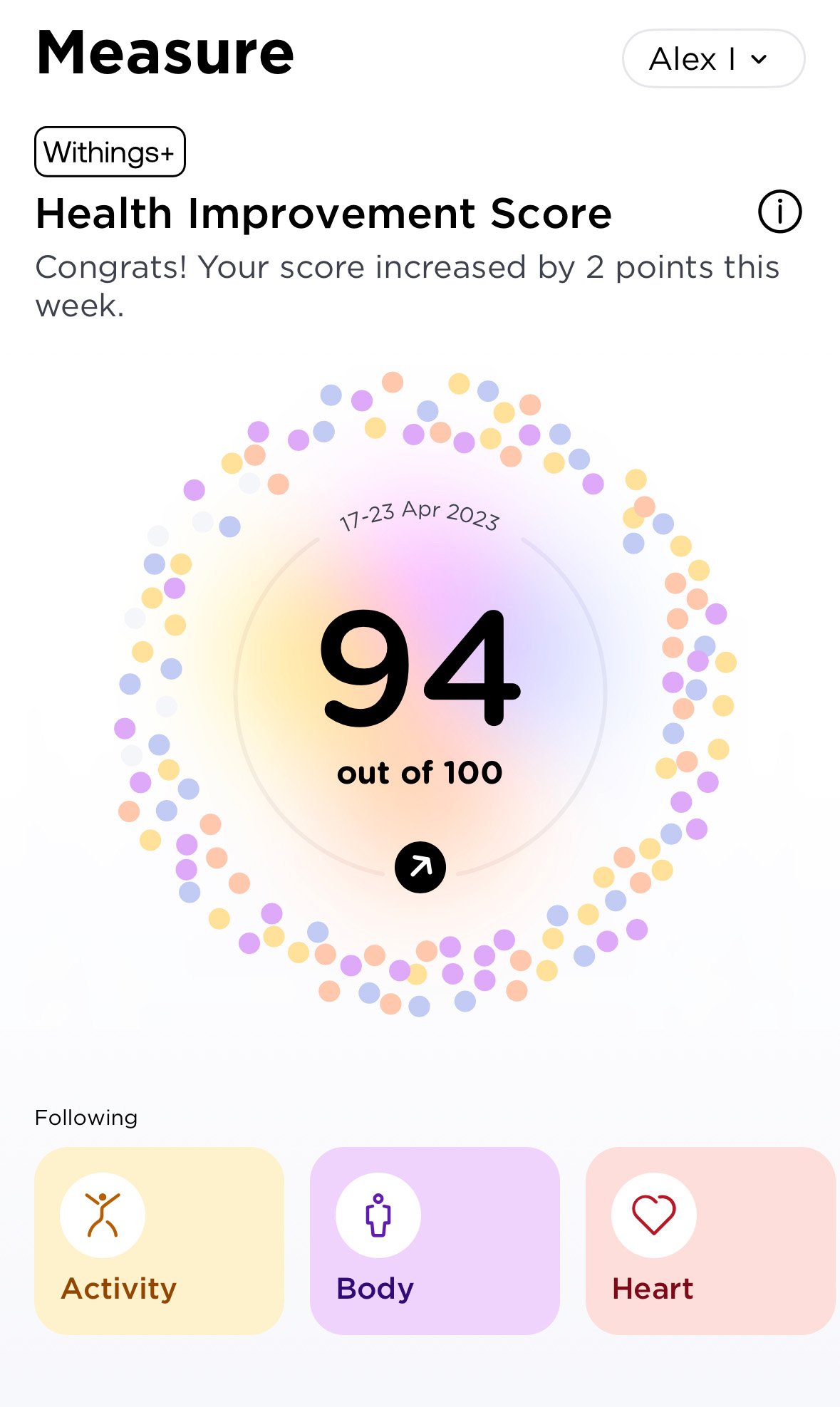 Health Sub-Scores
By tapping any of the sub-scores below your Health Improvement Score you can see detailed metrics of what measurements were used to attain that score.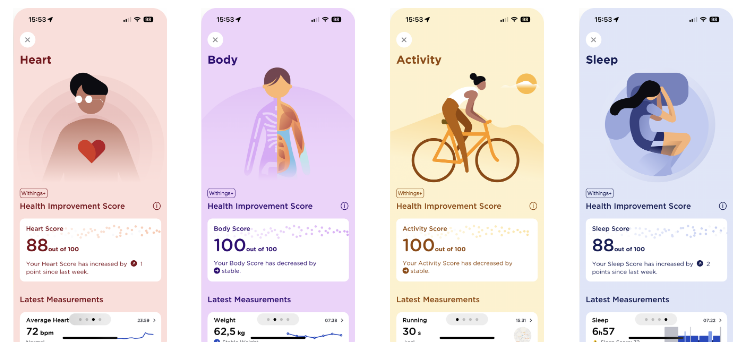 Activity: The Activity sub-score measures your physical activity level by tracking your steps and active minutes. It provides you with insights into your daily movements, allowing you to take achievable actions to increase your physical activity. By regularly monitoring your Activity sub-score, you can stay motivated to maintain a healthy and active lifestyle.

Body: The Body sub-score provides you with an overview of your body composition, including your weight, body fat percentage(with Withings scales), and muscle mass(with Withings scales). By monitoring changes in your body composition over time, you can assess the effectiveness of your diet and exercise habits in achieving your health goals.

Heart: The Heart sub-score tracks your cardiovascular health by analyzing your resting heart rate, your blood pressure, your vascular age and even your ECGs. It provides you with insights into your heart health and helps you take action to improve your cardiovascular fitness. By monitoring your Heart sub-score, you can lower your risk of heart disease, improve your endurance, and maintain a healthy heart.
Sleep: The Sleep sub-score measures the duration and quality of your sleep, giving you insights into your sleep habits and their impact on your overall health. By monitoring your Sleep sub-score, you can identify areas for improvement and make positive changes to your sleep habits, leading to reduced stress levels, improved mood, and better overall health.
Start Tracking Feature
Once inside the sub-scores, you will find the ability to start tracking each score individually and even individual metrics from different devices. This will give you more targeted assessments for you to focus on during your journey to wellness! To do this, follow these steps:
Open the Withings App and select the Measure tab.
Select the Sub-Scores under your Health Improvement Score.
Scroll down and until you see Start Tracking at the bottom of that page.
You can scroll left and right to see other available measurements for tracking.
Select Start Tracking on any of the available measurements.
The available metrics you can track are based on the measurements regularly taken by your Withings health devices.