Overview
The Content Library is a robust knowledge base consisting of all of the available Withings+ Missions (articles, recipes, and workout routines) that will guide you on your wellness journey. The Library is intended to be a resource that can be easily accessed without having to navigate within a specific Program on a specific day. The Content Library can be found under the Achieve tab > Library.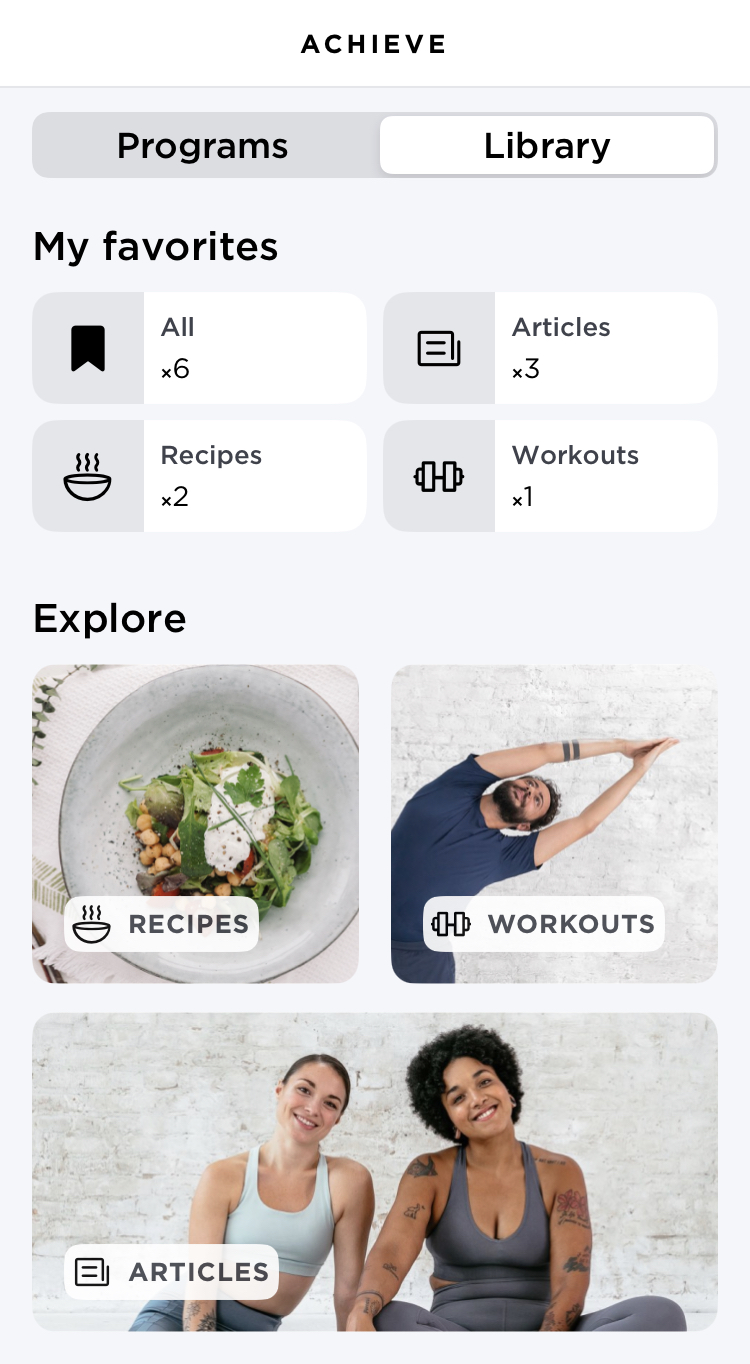 Exploring the Library
Within the 'Explore' section of the Library, you can browse the many recipes, workouts, and informative articles (aka Missions) that can help you on your journey. For each of the Mission categories, you will find sub-categories to help you more quickly find the specific content you are looking for:
Recipes: A variety of healthy meals with varying preparation times for breakfast, lunch, and dinner.
Workouts: A collection of fitness videos of varying durations and intensities. Fitness categories include: Barre, boxing, HIIT, pilates, strength training, stretching, and yoga.
Articles: A deep knowledge base providing informative articles about health, wellness, and nutrition concepts, as well as guides on how to live a healthier lifestyle.
Using My Favorites
Saving a Mission to your Favorites
You can save any Mission for easy reference later. The 'My Favorites' section shows all Missions that you have chosen to save using the Bookmark.
To save any Mission to your Favorites section in your Library, follow these steps:
Go to your Library.
Tap on the desired Mission category (Recipes, workouts, or articles) under the 'Explore' section.
Select the Mission that you want to save from the available list.
In the Mission details, tap on the Bookmark icon in the top right corner.
A pop-up "Saved to My Favorites" will appear to confirm that it was saved.
Removing a Mission from your Favorites
If you want to remove the Mission from your Favorites, go back to the Mission and tap again on the now highlighted Bookmark icon which will display a pop-up asking to confirm. Tap Remove to remove the Mission.
Searching your Favorites
We have included a helpful search bar so you can find your saved Missions. The search bar is located at the top of the screen after tapping on any of the Mission categories under 'My Favorites.'