Overview
Withings+ Programs are exclusive guided 6-week courses that will help you in your wellness journey. They are intended to help you change your behaviors and build healthier habits so that you can remain consistent in your everyday practice.
Our Programs have been developed by an experienced team comprised of Boston-based doctors and public health professionals with expertise in behavior change, as well as the knowledge and guidance of the Germany-based company 8Fit (acquired by Withings in early 2022) who specialize in curated, easy-to-follow fitness and nutrition plans to help build health routines.
Your Programs can be found under the Achieve tab. Your current active Program will be displayed under your current in-app Health Goal. You can tap the Health Goal to see your Weight Trend graph. Your Health Goal is set whenever you install a new Withings product and can be changed at any time under Profile > My Health Goal > Edit goal.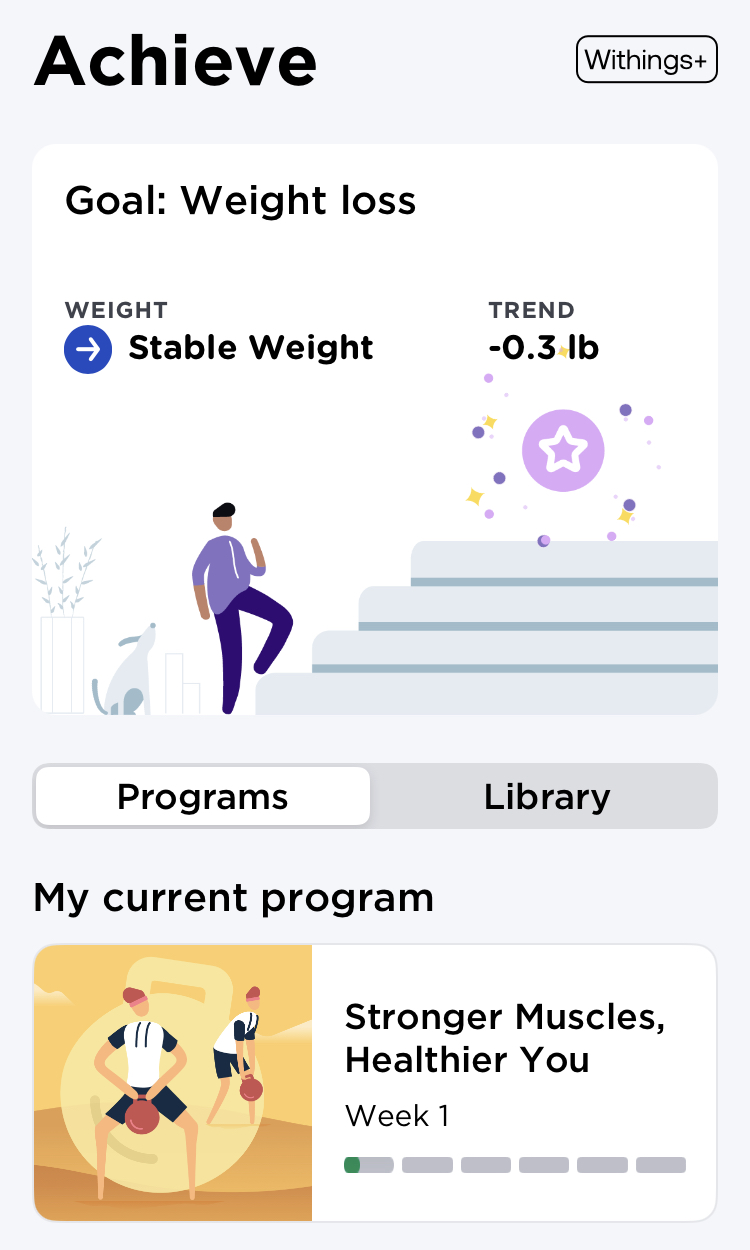 Programs and Missions
Withings+ Programs come in four categories: Activity, Heart, Nutrition, and Sleep.
Within each of these categories, you will be granted access to a variety of daily Missions. With Missions, you will be able to select which healthy habit you want to form according to your own health objectives. Over the course of a 6-week period, you will be provided with helpful articles to read, workouts to do, recipes to prepare, measurement guidance, and mood logging in order to achieve your goals.
As you complete your Missions, they will be marked with a check (√).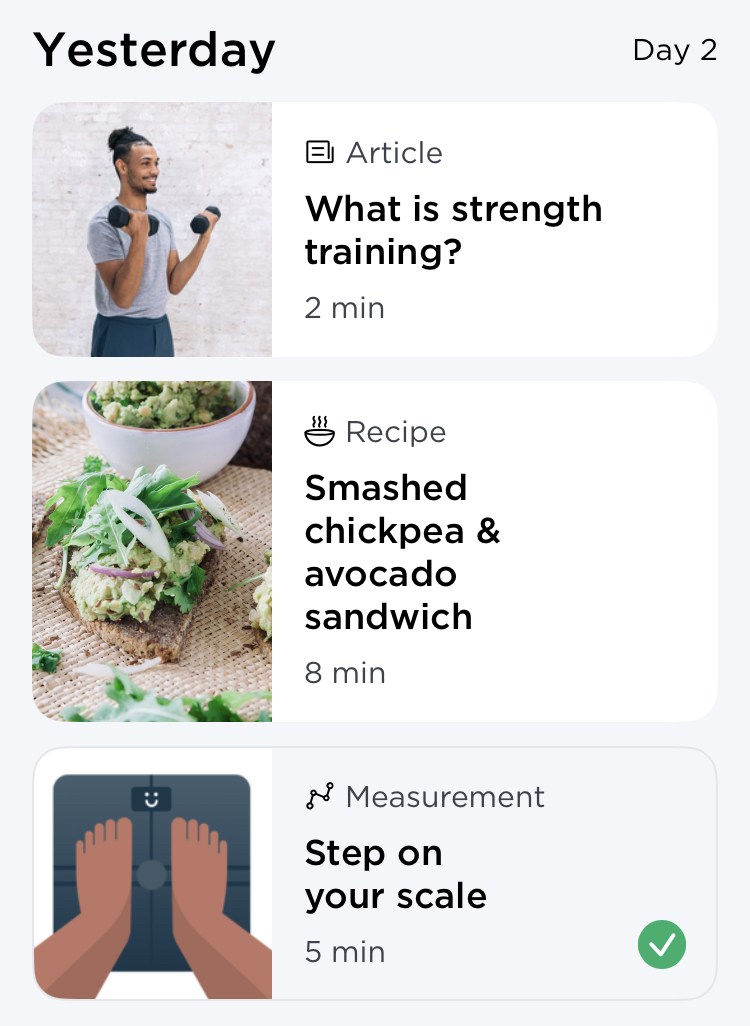 Saving a Mission to My Favorites
You can save any active Mission article, recipe, or workout to your Favorites section in your Content Library for later reference. To do this, follow these steps:
Go to your active Program.
Tap on the desired Mission.
In the Mission details, tap on the Bookmark icon in the top right corner.
A pop-up 'Saved to My Favorites' will appear to confirm that it was saved.
If you want to remove the Mission from your Favorites, go back to the Mission and tap again on the now highlighted Bookmark icon which will display a pop-up asking to confirm. Tap Remove to remove the Mission.
Swapping a Mission
You can swap out certain Missions (workouts and recipes only) for an alternative if desired. To do this, follow these steps:
Go to your current Program details and scroll down to your available Missions.
Swipe left on your chosen Mission.
If Replace appears as an option, tap it.
Choose the desired replacement Mission.
Tap Select this one.
Leaving a Program
You can also leave any Program at any time if you would rather focus on another one. To do this, follow these steps:
Go to your current Program details.

Tap on the 3 dots in the upper right hand corner.
A pop-up will appear asking you to confirm.
Tap Exit to leave the current Program.
Note: By exiting a Program, you will lose your current progress as well as your validated Mission history.