Important note for iOS users (October 2023): Due to a bug with the current version of the iOS App (6.1), manual logging with your watch will appear incorrectly in the Withings App. For this reason, we recommend to not use this feature until the next iOS app update, scheduled for late November 2023. Instead, please use the manual logging feature within the Withings app. 
---
Navigating period symptoms
Many people experience symptoms around the time of their period (often called premenstrual syndrome or PMS), which can encompass various changes related to your body and emotions. Some common symptoms of PMS are:
Cramps (pain in your back or lower belly)
Bloating
Acne/ breakouts
Feeling tired
Sore breasts
Mood swings or changes
Trouble sleeping
Headache
These symptoms are nothing to be worried about, but they are good to be aware of and keep track of so you can know what's normal for you, anticipate how you might feel, and take action if something doesn't feel right.
What are Cycle Logs?
By tracking your cycle, you'll not only have insight into the likely timing of your period and ovulation, you'll also have comprehensive data so that you can begin to understand how your cycle influences your activity, body, heart and sleep.
Period irregularities or changes are very common. Tracking the symptoms, phases, and duration of your menstrual cycle month after month can help you understand your unique cycle patterns. We call these data points Cycle Logs. Tracking Cycle Logs such as menstrual flow, symptoms, moods, sexual activity, and cervical mucus will help you understand how your cycle impacts your overall well-being.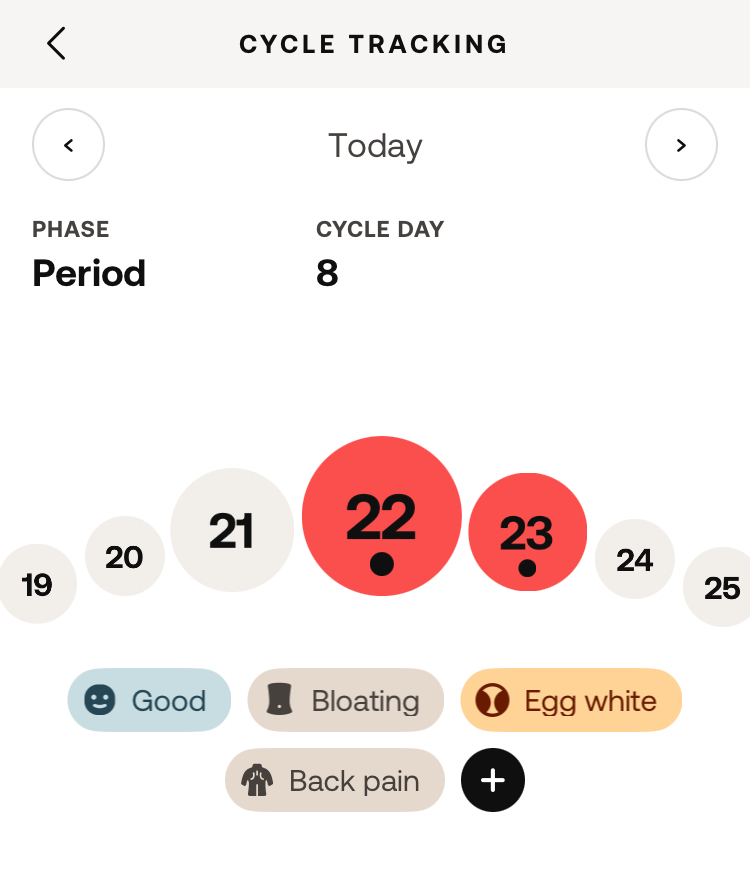 The example shows various Cycle Logs that have been added:
Manually adding Cycle Logs with the app
To add Cycle Logs using the Withings app, follow these steps:
Open the Withings App.
Tap the "+" icon in the upper right corner of the Home tab.
Tap Cycle Tracking. 
Choose any of the categories: Mood, Period, Sexual Activity, Symptoms, and/or Vaginal Discharge.
Within each of these categories are various options that can be selected to further categorize your data.
Manually logging cycle data will only do so for the current day. You can still add additional Cycle Logs to existing measurements by tapping Add Logs on the Cycle Tracking measurement card found on the Home and Measure tabs. 
---
Important: Data displayed are intended for informational use only. Do not use the ovulation prediction to control pregnancy or support conception. 
Data privacy concerns? Click here.