The Nutrition feature, available from your Dashboard, is directly linked to your MyFitnessPal account. It displays:
your budget for the day
the amount of calories ingested
the amount of calories remaining or out of budget
Your budget for the day is calculated as follows:
BMR + Calories earned + Weight loss/gain pace
Your BMR (Basal Metabolic Rate) is an estimate of the amount of calories you need at rest so that your body can function.
Your calories earned represent the amount of calories you've burned while working out.
Your weight loss/gain pace determines the amount of calories that you need to remove or add to your diet to reach your weight goal.
The amount of calories ingested is based on the meals you've logged in MyFitnessPal. Only meal data coming from MyFitnessPal can be used at this point.
The amount of calories remaining is your calorie budget minus your calorie intake. If this subtract is negative, the amount of calories out of budget is displayed. When that happens, it's up to you to work out to earn some more calories!
You can also tap the Food widget to display the daily detailed view. In this view, you get the following:
The amount of calories ingested
The amount of calories remaining or out of budget
The breakdown of your budget
The split by meal of your calorie intake
The split by macro nutrient of your calorie intake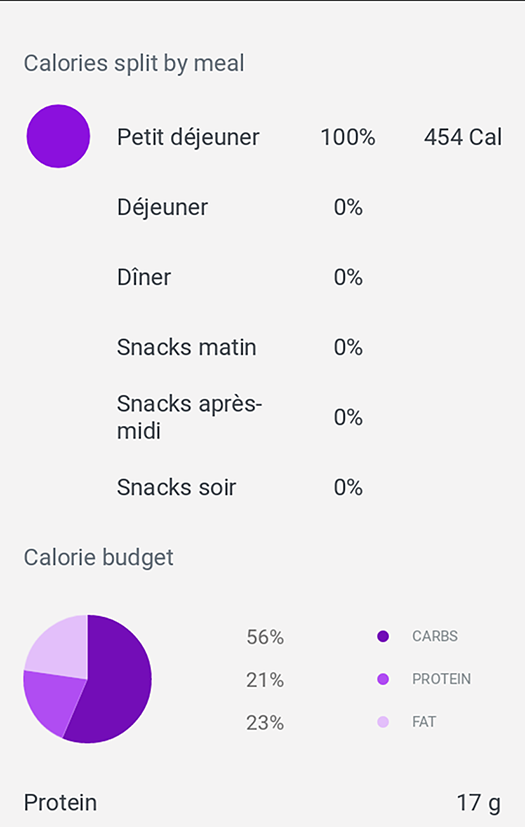 You also have a weekly view, accessible by tapping the dots in the top right corner and tapping Week. This view displays:
The comparison of your intake and budget for each day of the week
The average amount of calories ingested per week
The average amount of calories remaining or out of budget per week
The number of days you ingested less calories than your budget allowed
The weekly split by meal of your calorie intake
The weekly split by macro nutrient of your calorie intake