Your Steel HR can help you track your heart rate. By default, it takes a heart rate measurement every ten minutes, allowing you to see how your heart rate fluctuates during the day. Note that your heart rate data is sent every 30 minutes to the Withings App.
You also have the option of using the continuous heart rate mode to get your continuous heart rate, which is especially interesting during a workout session. In this case, a measurement is taken every second. Note that the continuous heart rate mode also enables a timer so that you know exactly how long you've been working out.
In order for your heart rate to be accurately tracked, ensure the wristband is worn so that it is comfortably tight and about a centimeter (half an inch) behind your wrist bone.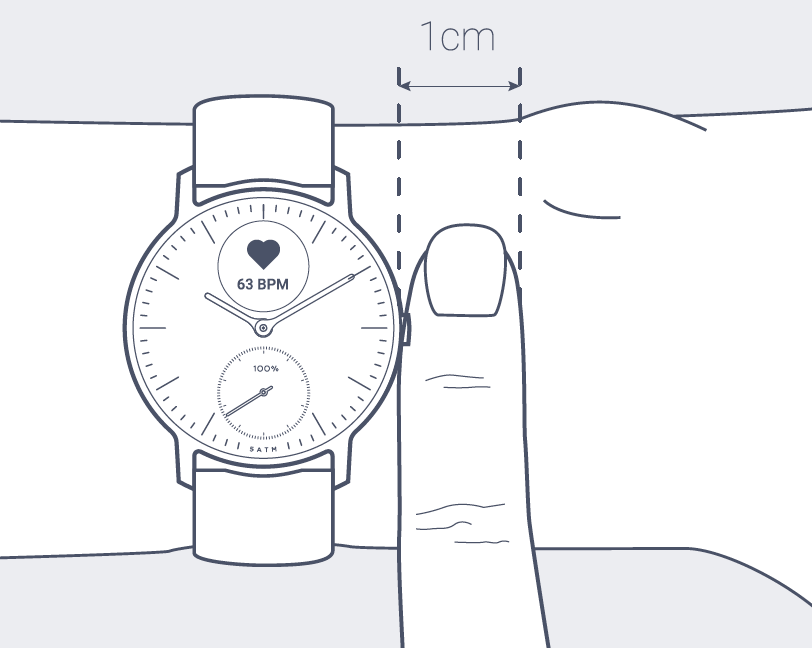 Launching the continuous heart rate mode
You can easily launch the continuous heart rate mode before a workout session. To do so, perform the following steps:
Press the button of your Steel HR for about a second until it vibrates.
Press the button on the watch to cycle through activities.
Press and hold the button on the watch to launch the mode with the selected activity.
Press the button until it vibrates again when you want to stop your workout session and the continuous heart rate mode.
Only the heart rate screen appears on the display of your Steel HR when the continuous heart rate mode is on.
To view your continuous heart rate measurement graph, open the Withings App and tap directly on the activity for which you activated the continuous mode.

Note: The continuous heart rate mode will be activated automatically after 2 minutes of running. It will stop automatically when the running session is over.