Disclaimer: Due to health regulations and clearances, some ScanWatch features may not be available or may not have clinical validation in your region. Learn more.
ScanWatch battery life
ScanWatch is equipped with a battery that goes well beyond the expectations of people who are familiar with the world of connected watches. Learn more about how you can optimize its performance.
ScanWatch has been designed so that you can detect several pathologies whose symptoms may be very mild or episodic. Therefore, having a longer battery life than what was typically found on the market was essential in order not to miss these signs. Although ScanWatch is crafted to run for 30 days before needing to recharge, battery life is affected by use, and below we give an example of a typical 30-day-use scenario.
Sample Scenario
Activity:
· 5000 steps per day
· 30 minutes of physical activity per week with Workout Mode enabled and the "Screen Always On" option disabled or when ScanWatch detects running. Note that use of connected GPS does not affect battery life.
Sleep:
· 8 hours of sleep a day
· Respiratory Scan off
· Automatic oxygen saturation measurement off during the night
Heart Health:
· Live heart rate check once a day
· Detection and notification of irregular heartbeats (AFib)
· One Electrocardiogram (ECG) and one blood oxygen level (SpO2) measurement every 3 days
Settings:
· Connection to smartphone 12 hours a day in Bluetooth®
· 5 notifications a day
· Quicklook feature off
· No alarms set
· Automatic screen brightness adjustment off
· Up to 5 minutes per day of total on-screen time
Expected battery life may be affected by use, especially if your ScanWatch is used in a different manner than outlined above. Also be aware that signal and network quality, your smartphone model, or various environmental factors may also reduce expected battery life.
ScanWatch energy consumption
In order to better understand the energy consumption each feature uses, the table below will allow you to identify which operation is more or less draining on the battery.
Low power consumption
Medium power consumption
High power consumption
Very high power consumption
- Pedometer (calculation of the number of steps)
- Sleep analysis
- Approx. 5 notifications per day
- One SpO2 measurement per day
- One electrocardiogram recording per day
- Detection and notification of irregular heartbeats (Atrial Fibrillation)
- Heart rate monitoring
- Automatic detection of activity (except running)
- Altimeter
- Stopwatch
- Timer
- Synchronization with the application
- Crown use
- Alarms
- Workout Mode launched from the watch menu without the Always on screen option, with GPS connected or not
- Automatic running detection
- Breathe feature
- Approximately 30 notifications per day
- More than one SpO2 measurement a day
- More than one electrocardiogram recording a day
- Quicklook feature on
- Display Always on during workout activated
- Respiratory Scan
The most energy-consuming features are not activated by default and are dedicated to more periodic use since they do not need to be activated continuously for the user, or in the interest of a medical follow-up. This is notably the case for the Respiratory Scan.
Recharging ScanWatch
When the battery level reaches 10%, you will receive a notification. At 10% you can no longer run a Respiratory Scan. When the battery reaches 0%, your watch activates power reserve mode. Only the analog clock, step, and sleep monitoring features remain available, and only for about 20 days. In power reserve mode you will no longer be able to start an ECG or oxygen saturation measurement on demand via the watch display.
You can easily recharge your ScanWatch using the magnetic cable provided with the watch.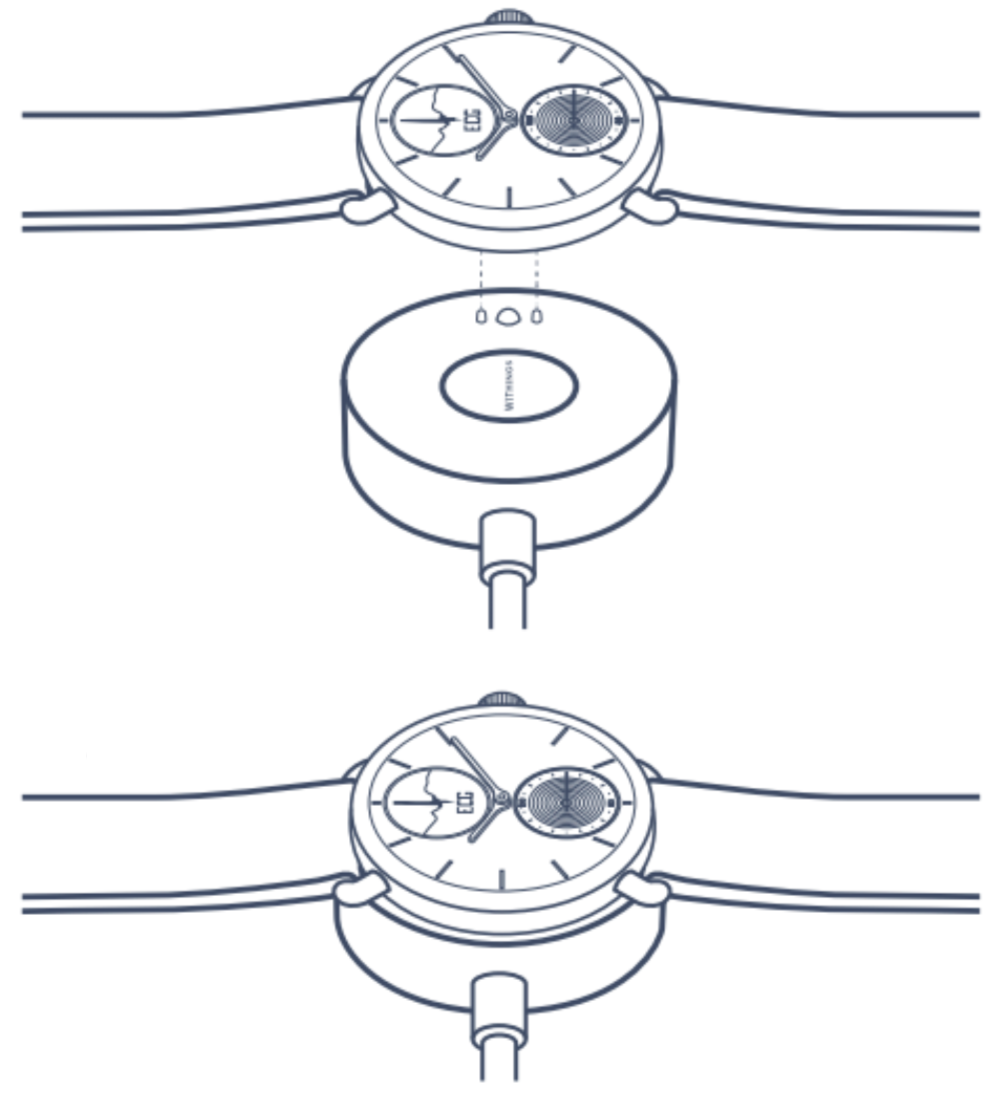 ScanWatch recharges to 80% in about 1 hour and to 100% in about 2 hours.