ScanWatch - I'm having issues with my ECG recordings. What should I do?
Disclaimer: Due to health regulations and clearances, some ScanWatch features may not be available or may not have clinical validation in your region. Learn more.
This article will help you if you encounter any of the following issues:
- You have no ECG recording
- You received an inconclusive recording
- The ECG waveforms appear upside down
Note for Horizon users: it is possible that dust got trapped under the rotating bezel, or that water remains under it. Please try rinsing it under a trickle of water, placing the watch vertically and rotating the bezel at the same time. You might also want to clean the electrodes at the back. Leave the watch to dry properly and try taking a new ECG measurement several hours later.
---
Make sure your ScanWatch and your wrist are clean and dry. Water and sweat can cause a poor recording.
Ensure that your ScanWatch, arms, and hands remain still during ECG recordings.
Ensure that you have followed the steps to take an ECG recording. Click here for more information.
You received an inconclusive recording
An inconclusive result means the recording can't be classified. This can happen for many reasons:
Heart rhythm is low
The heart rate obtained cannot be classified as a recording. To obtain a full analysis, the heart rate must be above 50 bpm during the recording.
Heart rhythm is high
The recording does not appear to show any signs of atrial fibrillation, but complete diagnosis is not possible for a heart rate above 100 bpm. To obtain a full analysis, the heart rate must be below 100 bpm during the recording.
Signal is too noisy
There is too much interference for the recording to be classified. Place your arm on a table or on your thigh, relax, don't talk, and don't move during the recording. Refer to the guidelines below to know the right gestures to be adopted and avoided.
Before the measurement, tighten the band so that the back of the watch is in contact with the skin of the wrist.
Note:

You may have more difficulties to obtain a conclusive ECG recording if you wear a metal or leather wristband.

Make sure you have been resting for at least 10 minutes after your last workout session.
Seat down, rest your arm on a table, with the hand relaxed and in an open position.
If needed, during the measurement, slightly press the top of the watch on your wrist.
Try to follow the gestures below to improve your ECG recording.


The following gestures are to be

avoided.

Move away from any electronics that are plugged into an outlet to avoid electrical interference.
Important: If you think you may be having a heart attack (myocardial infarction) or are facing a medical emergency, call the emergency services.



The ECG waveforms appear upside down
ScanWatch orientation may be set to the wrong wrist in the Health Mate app. To update it, go to Devices > More settings > ScanWatch > ECG.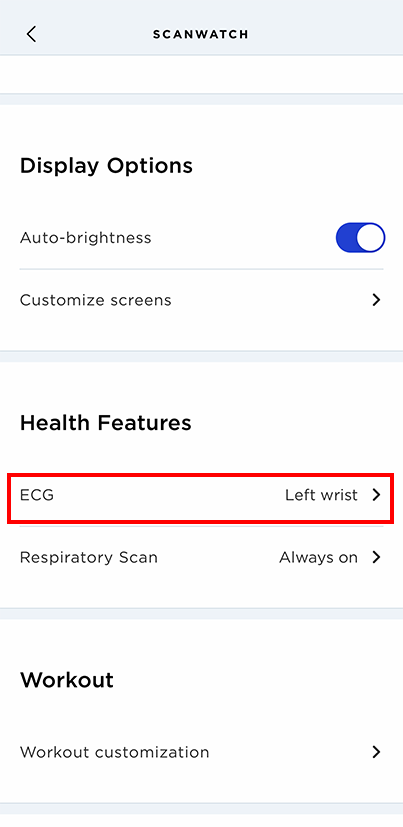 If you still encounter issues, reach out to Customer Service by clicking the Contact us button at the bottom of the page.


Didn't find what you need? Here's how to get in touch.
Contact us