Withings watches are designed to adapt to your everyday life. And as we believe that regular physical activity is one of the pillars of good health, find out how your watch follows you during your workout sessions.
ScanWatch and Steel HR provide complete activity monitoring and automatically detect walking, running and swimming. When you want to practice another sport or manually start a run, walk or swim session, you can use the Workout Mode.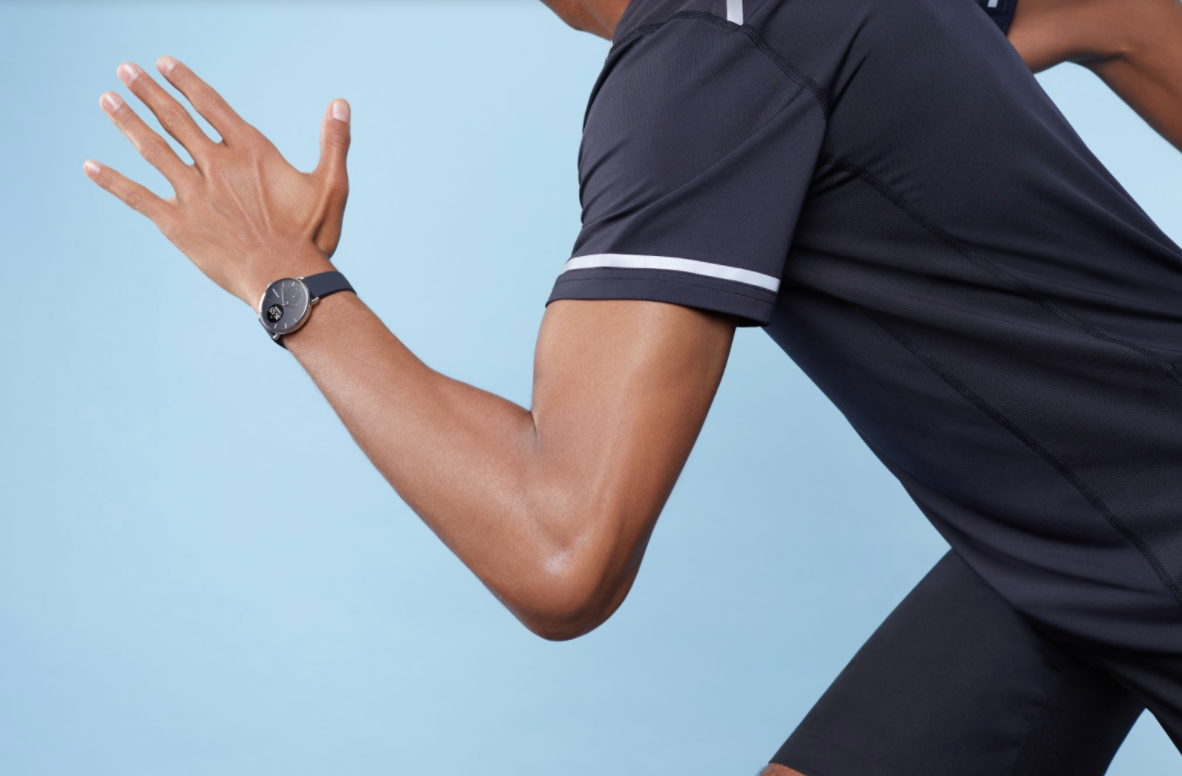 How to launch a workout:
Press the crown button briefly to wake up the watch or raise your arm if you have activated the "Quicklook" function.

Navigate between the screens by turning the crown to the "Workout" screen and then select it with a short press.

Turn the crown to navigate between the screens and then select your sport with a short press.

Note that you can customize your watch to include up to 5 favorites in Devices > ScanWatch > All settings > Workout customization — and you'll find more on this below.

If you start a session, your watch will prompt you to open your Health Mate application to activate GPS tracking. You'll then have access to your heart rate, speed and distance traveled in your application.

If you wish to stop your workout, press and hold the crown button.

If you wish to resume, press and hold down "Resume."

If you wish to finish it, rotate the crown to "Stop" and then press and hold.
You will then have access to your detailed report in the Health Mate application. It will show you the duration, calories burned, and elevation (floors climbed).

Workout Mode Features

The Workout Mode automatically activates the following additional functions:
Connected GPS:
Connected GPS means that when participating in any distance-based activity with your smartphone, you will be able to track the route you have covered on a map in Health Mate. Also, you will see additional workout metrics, including pace, and distance, while walking, running, or cycling. These metrics will be displayed in real-time during the workout on your phone.
To use connected GPS, ScanWatch needs to be connected via Bluetooth. You must also enable the location settings on your smartphone.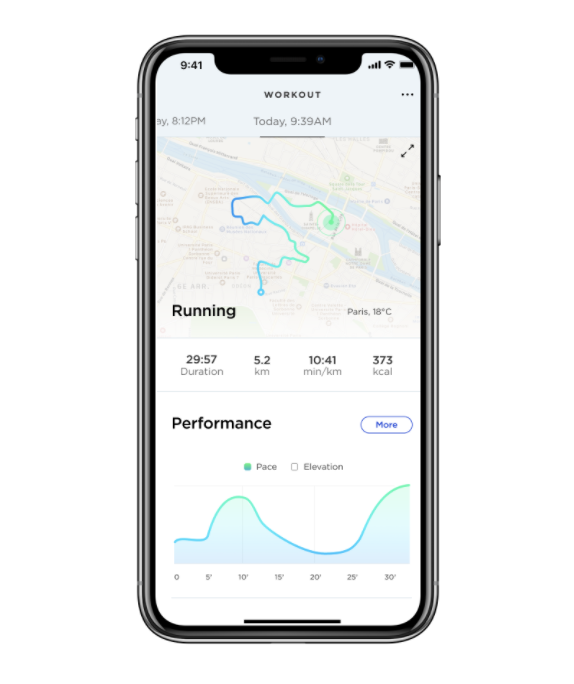 Continuous Heart Rate:
When you activate Workout Mode, your heart rate is continuously recorded and you can access a detailed report of heart rate in your Health Mate application at the end of your workout. You'll find a graph with normal ranges showing how your heart rate changes during your workout, as well as an average.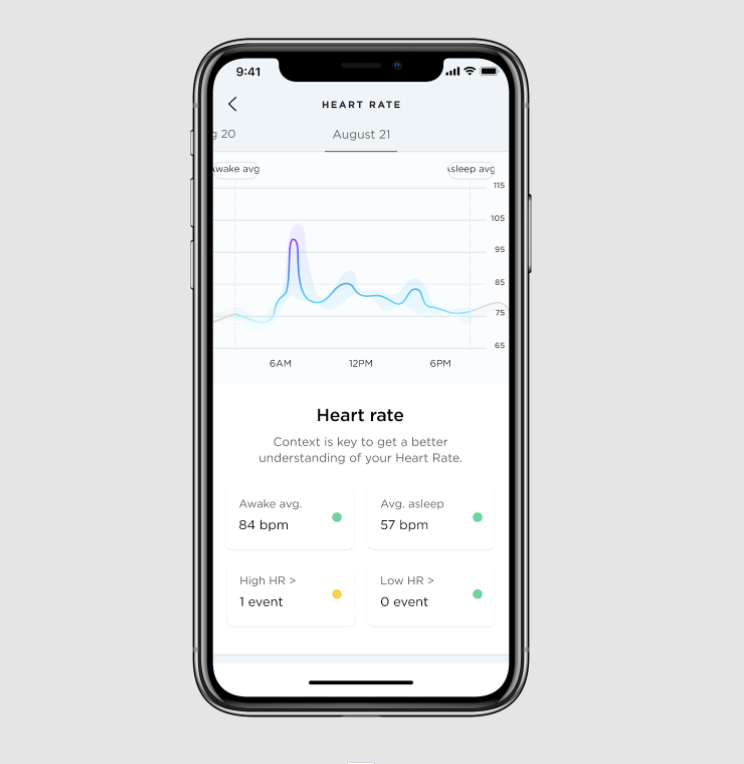 Fitness Level via VO2 max estimation (Steel HR Sport & ScanWatch only):

This powerful indicator of your physical and cardiovascular health will be automatically calculated when you run for more than 10 minutes. To learn more about the Fitness Level, please click here to read our article on the topic.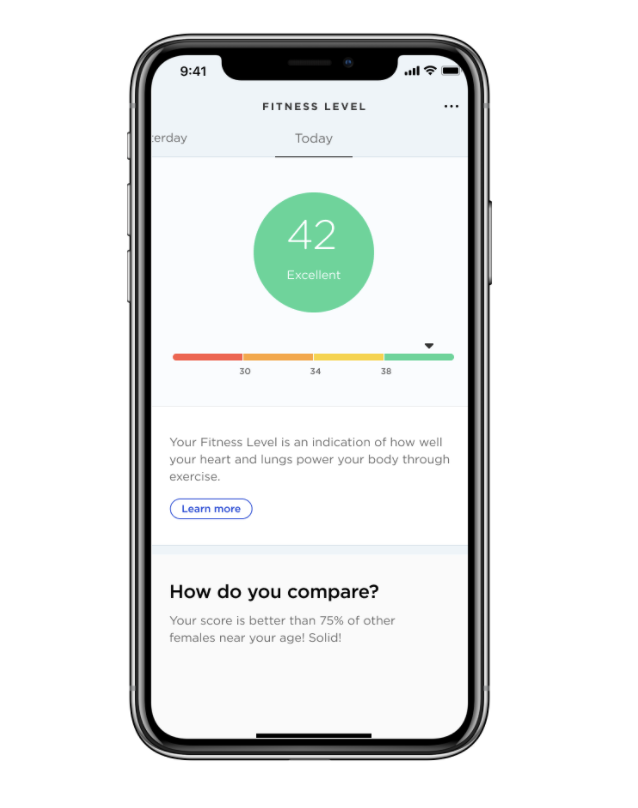 Stopwatch:
Activating the Workout Mode automatically starts a stopwatch. You will be alerted every 30 minutes by a slight vibration that 30 minutes have elapsed, to help you keep track of time without needing to look.
Customizing shortcuts to sports in Health Mate:
Our watches can also follow more than 30 other activities, including tennis, basketball and dance. If you practice a sport other than walking, running or swimming, the application will ask you to specify your sport and assign it manually. Your watch will then learn to automatically detect these activities based on your movements.
To provide quick access to your favorite sports, you can change the sports offered on your watch screen.
To do this, go to your Health Mate application, Devices tab. Select "More settings" under your watch, then "Customize workouts". Click "Show more" to see a scrolling list of sports supported by your watch.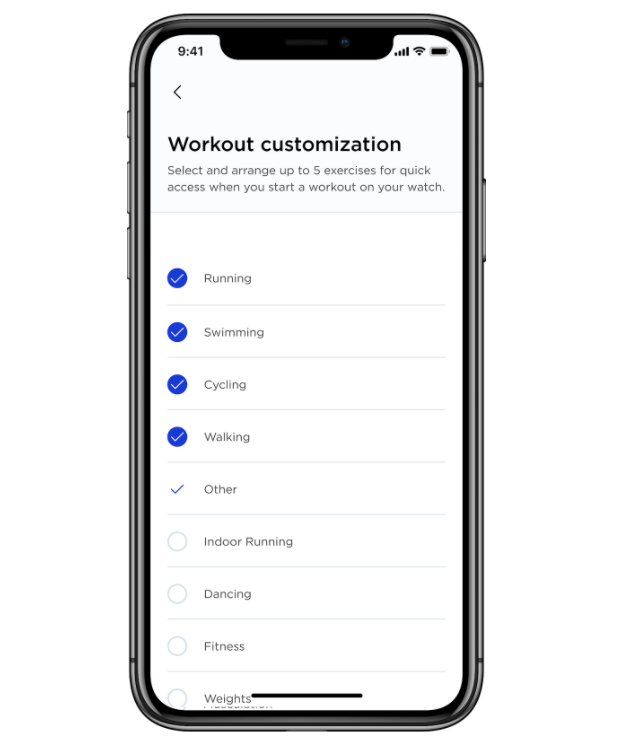 Select the 5 most common sports you play and organize them by tapping right to see them appear in the order you choose on your watch screen.
You can now start training.
Whether you prefer yoga, badminton, weight training or skiing, our watches use the latest technology to help you follow your training with precision.
Don't forget that the benefits of exercise are powerful. 2 to 3 hours of sport per week can extend life expectancy by 5 years (source) and that the WHO recommends adults get at least 30 minutes of moderate activity 5 days a week (source).
Didn't find what you need? Here's how to get in touch.
Contact us