ScanWatch sends you a notification when your heart rate is high or low and when it detects signs of atrial fibrillation.
1. How does ScanWatch measure your heart rate and rhythm?
Heart rate and rhythm are measured by the exclusive PPG multi-wavelength sensor, which uses light absorbed by the blood and skin to measure blood flow change in your wrist's microvascular beds, made up of arterioles, capillaries, and venules. Learn more +
By default, ScanWatch triggers a measurement from time to time when you are stationary or walking. Note that your heart rate data is regularly transferred to the Withings App where you can see results. Learn more +
2. High or low heart rate notifications
If you have been inactive for at least 10 minutes and ScanWatch detects a heart rate that is high compared to your usual heart rate, you will receive a notification.
Similarly, if your heart rate falls below a certain value of beats per minute, ScanWatch will send you a notification.
The normal heart rate is between 50 and 100 bpm, but these figures may vary depending on the person. Therefore, you can change the high and low heart rate thresholds in Withings App. You can also turn this feature on and off at will. Find out how +
If you want to know more about high or low HR and arrhythmia, read the article on the American Heart Association's website.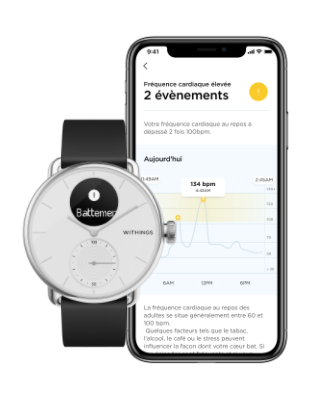 3. Atrial fibrillation notification
A healthy heart does not beat as regularly as a metronome. Heart rate variability has natural ups and downs, but an irregular heartbeat can also be a potential sign of atrial fibrillation (AFib).
ScanWatch alerts you in case of suspected AFib. If the watch detects irregular heartbeats while you're awake, you will receive an instant notification that you may have atrial fibrillation.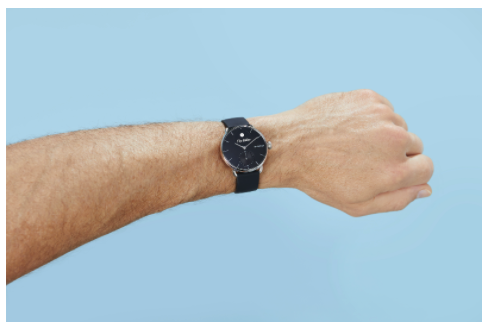 4. What should I do if I receive a notification?
When you receive a notification, we encourage you to record an ECG. The ECG may not necessarily be classifiable (if your heart rate is high or low), but the results of the ECG may help your doctor diagnose atrial fibrillation. You can view and share your results at any time within the Withings App.
High Heart Rate Notification


If these notifications become too frequent and you do not know the events they may be related to (often stress, anxiety, or strong emotions), do not hesitate to inform your doctor of this phenomenon. Many pathologies can temporarily increase heart rate, and your doctor will be able to make a diagnosis and define appropriate treatment.

Low Heart Rate Notification


If these notifications become too frequent when you are awake, do not hesitate to make an appointment with your doctor to discuss this phenomenon. A low heart rate may be a sign of cardiovascular disease.

Atrial Fibrillation


When you receive this notification, you should record an ECG. If the result is confirmed, make an appointment with your doctor and show the electrocardiogram.
Recording an ECG may help confirm this alert, but since atrial fibrillation is known to be an intermittent condition, the results may also be different.
5. What is atrial fibrillation?
Atrial fibrillation, or AFib, is the most common cardiac arrhythmia, an anomaly of the heart's electrical activity. It is caused by a disorganized firing of electrical impulses in the right atrium near the sinoatrial node, the natural pacemaker of the heart. Learn more +
Atrial fibrillation (AFib) is thought to be responsible for approximately 30% of strokes. 90% of these events could be prevented if diagnosed earlier. Atrial fibrillation is often underdiagnosed because AFib is often episodic, and attacks do not necessarily occur during medical visits.
When you experience symptoms such as palpitations, you can launch the ECG mode and place a hand on the watch; ScanWatch will then record an electrocardiogram by detecting electrical signals from the heart within 30 seconds. Follow the best practices guide for medical-grade results.
Notes :
ScanWatch cannot detect heart attacks. If you ever experience chest pain, pressure, tightness, or what you think is a heart attack, call emergency services immediately.
ScanWatch does not constantly look for AFib. This means ScanWatch cannot detect all instances of AFib, and people with AFib may not get a notification.
If you are not feeling well, you should talk to your doctor even if you do not receive a notification. Symptoms such as a rapid, pounding, or fluttering heartbeat, dizziness, or fainting can indicate a serious condition.
Do not change your medication without talking to your doctor.
In some instances, the notification may indicate the presence of an irregular heart rhythm other than AFib.