BPM Core - Understanding my ECG recordings
After a successful ECG recording, you will receive one of the following information:
Normal Sinus Rhythm

: A normal sinus rhythm means the heart is beating in a uniform pattern between 50-100 bpm.

Atrial Fibrillation

: AFib is the most frequent form of heart rhythm disorder, it can lead to heart failure and it is a major risk for stroke. AFib is a frequent condition as populations are getting older. High blood pressure and obesity can also lead to AFib. Some people who have AFib don't know they have it and don't have any symptoms. Others may experience one or more of the following symptoms: irregular heartbeat, palpitations, shortness of breath. If you are experiencing any symptoms or have concerns, please contact your physician.

Low or High Heart Rate

: A heart rate under 50 bpm affects the ECG app's ability to check for AFib. The recording is considered Inconclusive.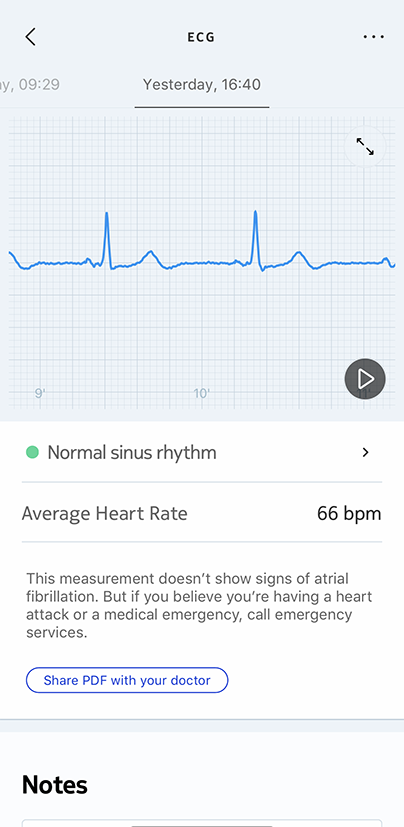 The ECG data is analyzed to determine if it is 20-seconds long, and, if so, if either Sinus Rhythm or AFib is present, or if an Inconclusive result is warranted. Inconclusive ECG recordings may mean that:
There may have been too much artifact or noise to acquire a good signal,
You may have an arrhythmia other than AFib the app cannot classify,
Your heart rate is below 50 bpm.
Note:
A heart rate can be low because of certain medications or if electrical signals are not properly conducted through the heart. Training to be an elite athlete can also lead to a low heart rate.
A heart rate can be high because of exercise, stress, nervousness alcohol, dehydration, infection, AFib, or another arrhythmia.
If you receive an inconclusive recording due to a poor recording, you might try to re-record your ECG. Click here for more information.
Important: If you are experiencing any symptoms or have concerns, please contact your physician. If you believe you are experiencing a medical emergency, you should contact emergency services.


Didn't find what you need? Here's how to get in touch.
Contact us