ScanWatch - Discover Horizon
Ladies and gentlemen, it is with utmost pleasure that we are presenting you our latest gem:


ScanWatch Horizon is a premium limited edition hybrid smartwatch designed with exceptional care to fit in the luxury diver watch tradition. This model includes all of the breakthrough health tech that the ScanWatch is known for.
A medical device to dive deeper into your health
Like all the previous ScanWatch editions, Horizon is a certified medical device. You will be able to track your health, your workouts, and your vitals as usual.
Disclaimer: Due to health regulations and clearances, some ScanWatch features may not be available or may not have clinical validation in your region. Learn more.
A traditional and state-of-the-art diving watchmaking
Proof of our commitment to meticulous design and the codes of high-end watchmaking, ScanWatch Horizon is crafted in the pure tradition of diving watches: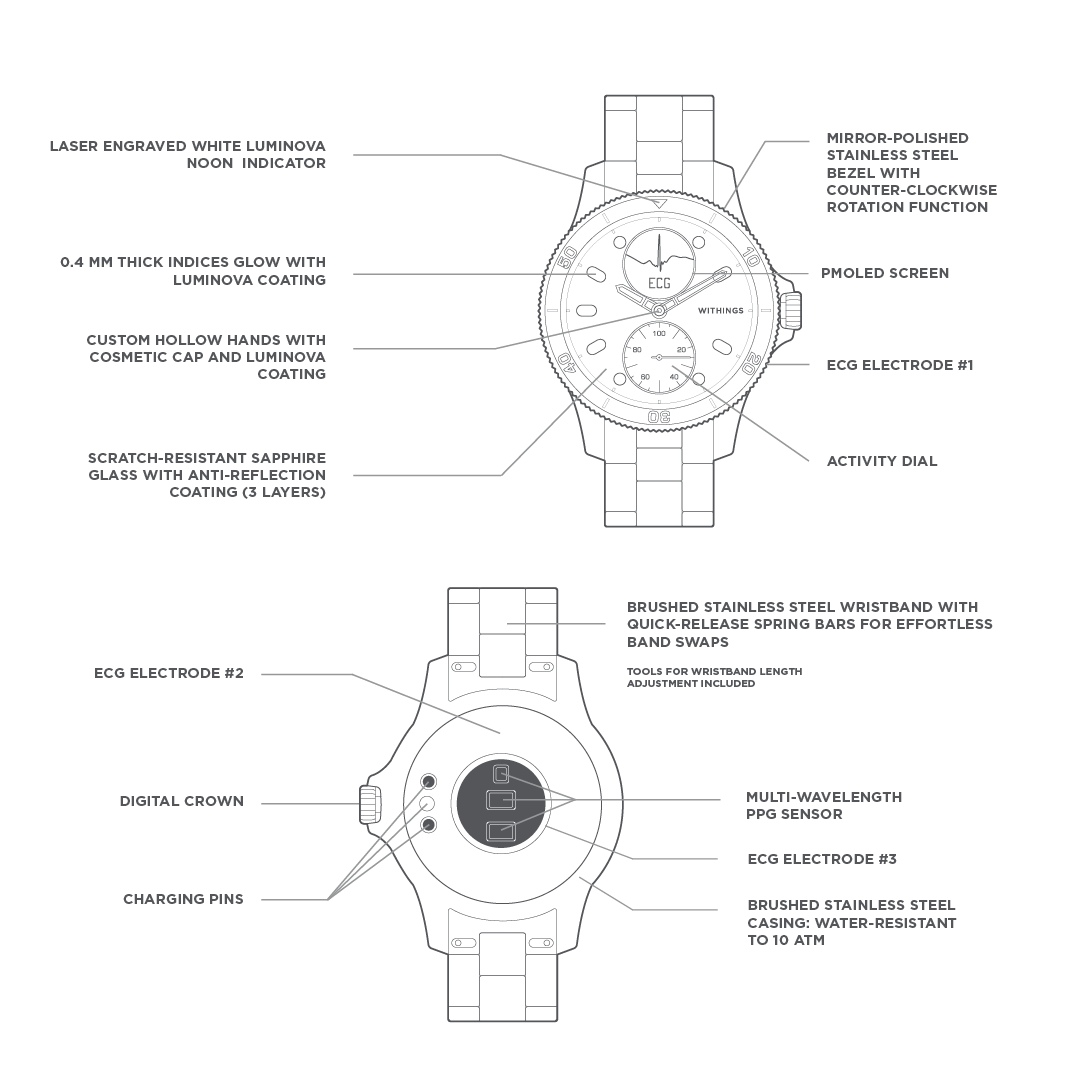 Custom hollow hands with Super-LumiNova® coating and a laser engraved white Super-LumiNova® noon indicator.
When exposed to ultraviolet light, Super-LumiNova® stores energy. When no longer exposed to the light source, its accumulated energy transforms into glowing light.
Note: Luminova technology is strongest during the first 30 minutes. Afterward, you might notice a decrease in the light intensity.
Unidirectional mirror-polished stainless steel bezel.
Oxygen being limited underwater, the bezel helps divers monitor their diving time limit. Having a unidirectional bezel that rotates counter-clockwise is safer to track time: should the bezel accidentally move, it would only shorten the time left instead of lengthening it.
Scratch-resistant sapphire glass with anti-reflection coating.
The final touch, to clearly see the fluorescent hands of your ScanWatch Horizon in the depth of the ocean.

Brushed stainless steel casing and wristband.
Making the ScanWatch Horizon water-resistant to 10 ATM (100m or 328 ft.)
The new ScanWatch Horizon is available on withings.com
Note: If the rotative bezel of your watch does not rotate smoothly, you can try rinsing it under a trickle of water, rotating the bezel at the same time. Leave your watch to dry properly afterward.
Didn't find what you need? Here's how to get in touch.
Contact us