Sleep is a sleep sensor easy to use, you don't need to change your routine or wear something while you are sleeping. 
You just need to install Sleep via the Withings App, plug it into a power socket, and place it under your mattress. Then, all you need to do is go to sleep as you normally would. A few minutes after you wake up, you will find your sleep data in the Withings App.
Where should I place Sleep?
Sleep should be placed between the mattress and the box spring/bed platform. It can also be placed between the mattress and mattress topper/pad. The sensor should be placed horizontally at chest level.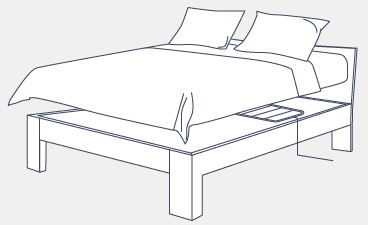 Note that Sleep can be used with a slatted frame. In this case, you may need to place a flat, sturdy object (like a cardboard, for example) between the frame and the sensor.

If you sleep alone in a double bed, we recommend that you place Sleep in the middle of the bed.
Can Sleep work if two people sleep in the same bed?
Sleep can only track the sleep of one person. If two people wish to measure their sleep, they can install two Sleep devices on the same account as two different users. 
Note that one Sleep must be placed under each person, on each side of the bed.
Important: Please do not increase the sensitivity of the sleep sensor unless specifically asked to by our Support team.