What are Workouts?
As you log activity via one of our trackers (listed below), our algorithm will begin to automatically detect the type of activity being done. These automatically detected activities will be labeled as 'Workouts' in the app.
Workouts can be viewed in various places:
In the Home tab under 'Trends' > Workouts.
Tapping on the card will show you a complete list of your logged Workouts.


In the Measure tab under 'All Health Data.' You will see the type of Workout under your daily steps. There will also be the option to Show All Workouts to see a complete list of your logged Workouts.


You can access Workouts within the detail graph of any activity measurement by scrolling down and finding them under 'Workout'


Which devices can benefit from this feature?
Withings Activité / Pop
Steel
Steel HR / Steel HR Sport
ScanWatch
Go
Pulse HR
Withings Move
Move ECG
Note: Withings Pulse does not support this feature.



Which activities are recognized?

For now, your tracker is able to detect and learn these new activities:
Walking
Running
Cycling (Steel HR / Steel HR Sport, ScanWatch, Pulse HR, Withings Move, Move ECG only)
Table Tennis
Squash
Fitness
Badminton
Basketball
Soccer
Volleyball
Dance
Boxing
Note that we are working on adding more activity recognition coming soon.
Manually logging your activity
If your activity is not yet supported by automatic recognition, you can manually log over 30 different activities as an alternative.
You simply need to log an activity to teach your tracker how you move. As you continue to log the activity, our algorithm will automatically recognize and log that activity for you in the future.
Follow the instructions below so that your tracker detects automatically your activity:
Perform any of the 10 newly supported activities while wearing your activity tracker. You will then see "New activity detected" on the Home tab.
Save the session, choose which activity it was, and adjust the intensity. It will now appear in the Home tab.
Repeat this process 2-3 times for each activity. This helps your tracker learn your specific moves, so it can automatically recognize them the next time around.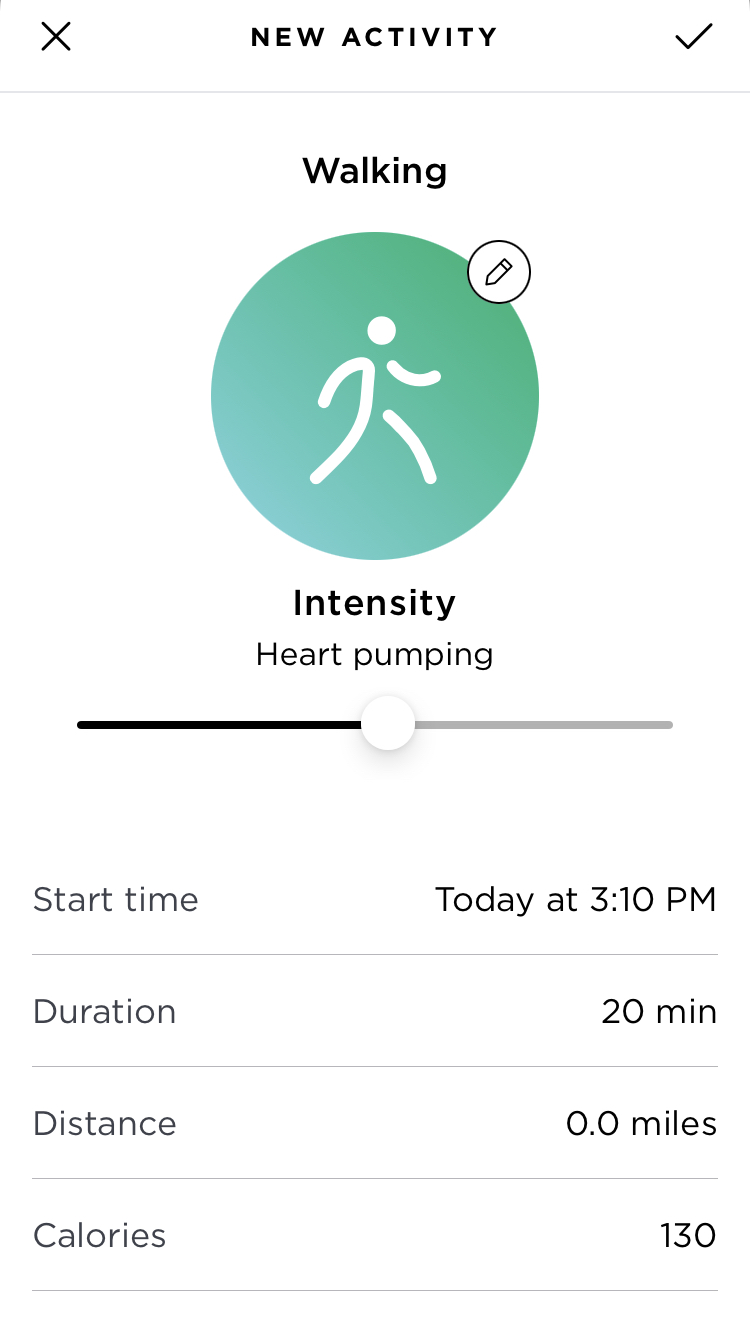 Setting a weekly goal
Each time you perform a new activity for the first time (whether it's automatically detected or logged manually), you will see a congratulations screen in the Withings App.
From that screen, you can select 'Set a goal,' and set how many days per week you want to perform that activity, so you have some accountability.
Each time you reach any weekly activity goal, you will see a congratulatory animation in the Home tab.