我该将诺基亚 Sleep 放在哪里?
诺基亚 Sleep 应放在床垫与弹簧床垫/床板之间。它还可以放在床垫和床垫套/床垫褥之间。传感器应水平正对胸部区域。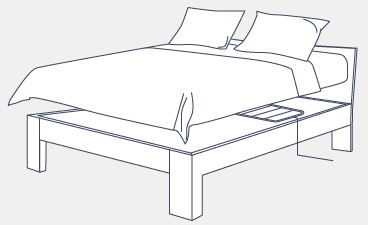 如果您的床采用板条框架,您可能需要在床架和传感器之间放置衬垫物 (比如一块纸板)。
如果您一个人睡双人床,建议您将诺基亚 Sleep 放在床中央。
如果两个人睡同一张床,诺基亚 Sleep 能否正常工作?
诺基亚 Sleep 仅可跟踪一个人的睡眠。如果有两人希望监测自己的睡眠情况,可在同一个帐户用两个用户安装两部诺基亚 Sleep。
请注意,每个人身下都必须放置一部诺基亚 Sleep,且需分别放在床的两侧。
我可以选择哪种类型的床垫与诺基亚 Sleep 配合使用?
诺基亚 Sleep 能配合各种不同类型的床垫使用,包括弹簧床垫、乳胶床垫、海绵床垫和记忆海绵床垫。您可将睡眠传感器直接放在床垫下(在床垫和床板或弹簧床垫之间)。
您也可把诺基亚 Sleep 放在床垫和床垫套/床垫褥之间。如果您躺在床上时能够感受到诺基亚 Sleep,可将该设备放在床垫与床架之间。
经测试,诺基亚 Sleep 可与厚度在 10 至 40 厘米之间的床垫配合使用。

请注意,我们尚未用水床测试传感器,不建议与水床一同使用。
How does Sleep track heart rate? Does it track the heart minute by minute or does it record the heart rate for the whole night sleep? Does it have the same heart rate tracking algorithm as the Steel HR?
Sleep tracks minute by minute heart rate, whereas the Steel HR tracks heart rate every 10 minutes. Heart rate is tracked continuously to be finally averaged over the minute.
Didn't find what you need? Here's how to get in touch.
联系我们